Professional Rug Cleaning Norwich
Rugs are made of all different fabrics, and they get dirty over time. The fibers can absorb all kinds of pollutants from the environment, and dirt can get embedded deep inside. It is important to use a rug cleaning service in Norwich to clean your rugs and make sure that they are looking at their best. Rugs are made of different kinds of materials, from silk to wool or cotton, and they require different types of cleaning depending on how they are made. Our rug cleaning in Norwich service can attend to all of your rug cleaning needs.
Protect and clean your rugs with the professional rug cleaning Norwich. Allow us to remove dirt, debris, and stains from your precious rugs, including high-quality oriental or Arabic rugs.
Why Should You Have Your Rugs Professionally Cleaned?
Vacuuming your rugs may not get rid of all the dirt and debris. It can also harm the fibres of the rug, leading to fraying and worn threads. Instead of vacuuming, some rug owners attempt to wash their rugs by hand or in household washing machines. These steps may cause further harm, loosening, or shrinking the fibres which warp the shape of the rug. You may also notice that the colours start to fade.
Attempting to wash or vacuum a rug at home is simply not the most effective solution. To thoroughly remove dirt, stains, and odours without damaging the rug, you need professional cleaning.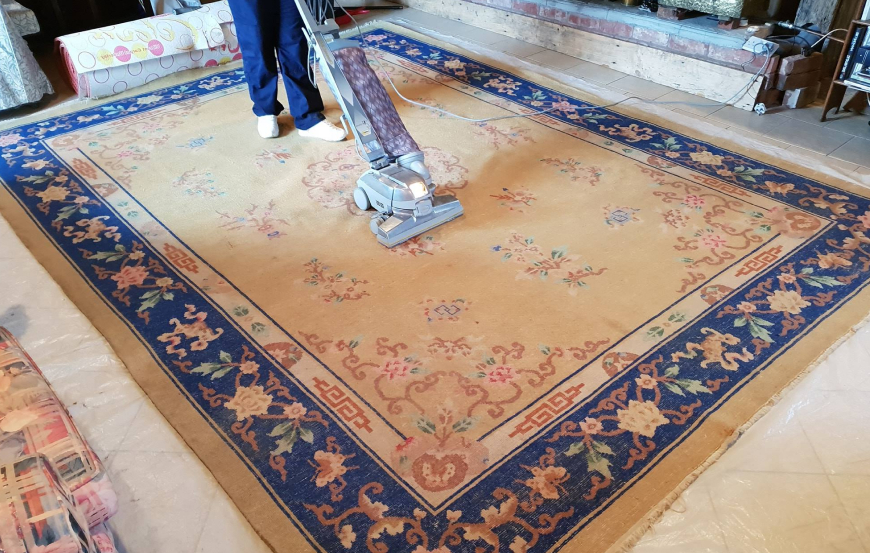 We have the equipment and experience to clean all types of rugs, including rugs made with natural or synthetic fibres. Some of the types of rugs that we frequently clean are discussed below.
Oriental Rugs
Oriental rugs are often expensive and may be antiques. The delicate fibres require gentle cleaning processes. When vacuuming an oriental rug, a screen should be placed over the rug for protection. Along with frequent vacuuming, experts recommend professional cleaning at least once a year.
Arabian Rugs
Arabian rugs are a type of oriental rug featuring traditional Arab rug-making processes. These rugs are often made from sheep's wool and other natural materials. The result is a soft, luxurious rug. However, the soft natural fibres need special care, which we can provide.
Machine Woven Rugs
Machine woven rugs are mass-produced in factories. They are often more affordable compared to handmade Oriental rugs or Arabian rugs. Machine woven rugs also tend to be more durable, but they still require regular cleaning. Consider professional rug cleaning Norwich at least once per year.
What Does Your Rug Cleaning in Norwich Service Entail?
When you use our rug cleaning in Norwich service, we will examine your rug to determine what kind of fabric it is made of. The cleaning process differs depending on how delicate the fabric is. We will also test the rug to make sure that the colour doesn't run or fade during cleaning. This way, we can make sure that your rug is cleaned with the safest and most effective process that is available.
We can come to your place and clean your rugs, or we can pick them up, clean them, and return them to you. It depends on what kinds of rugs you have and what is involved in the cleaning process. No matter which option you use, you can know that the professionals who are cleaning your rug will make sure that it is done the right way.